Cosplay Props & Weapons Policy
Cosplay Props & Weapons Policy
Armageddon Expo is New Zealand's ultimate entertainment event, featuring gaming, fantasy and multimedia events for the whole family. We aim to offer a fun-filled convention experience with something for everyone in the family to enjoy, in a safe and comfortable environment.

Attending any Armageddon Expo event means that you agree to comply with all rules and policies regarding the safety of all attendees, including this weapons policy. You further understand and agree that, for your own safety and the safety of everyone at an Armageddon Expo event, Armageddon Expo staff and representatives hold the right to inspect your costumes, prop weapons and any other item you bring to the event. We may temporarily or permanently remove any attendee at any time for violating this weapons policy because every attendee's safety is of the utmost importance.
Please when traveling to and from the event ensure that your prop weapons are safely transported so that you don't raise concern from the general public and attract the attention of local law enforcement.
No real weapons are allowed to be brought into the event – no exceptions
All items brought into the event must be legal to carry in public places, for more details on items that are legal to carry please refer to the Crimes Act 1961. However, for added safety and security, some items that may be legal for you to own or carry are not welcome at our events if they violate our weapons policy.
The following are examples of weapons/items that you cannot bring to Armageddon Expo under any circumstances:
Firearms of any description e.g. Rifles, shotguns, hand guns, blowguns.
Tasers and laser devices e.g. Laser pointers
Explosives or other incendiary devices
Metal weapons - these can include but are not limited to; knives, swords, daggers, switchblades, axes, hatchets, metal pole-arms, ninja stars.
Blunt weapons/sports equipment e.g. nunchucks, brass knuckles, whips.
Homemade stilts
Roller skates, skateboards, hoverboards, heelys and scooters.
Drones or other motorised or remote controlled items.
Helium balloons
E-cigarettes or other vaping devices
Lighters, matches or other flammable sources
Prop weapons are allowed only if they have been checked by Armageddon prop check when entering the event
All prop weapons must be submitted to prop check when entering an Armageddon Expo event. Armageddon Expo staff and representatives have the sole discretion to approve prop weapons. Prop checks are located at the main entrance of any Armageddon Expo event. Once your prop is checked staff will put a bright cable tie around a part of your prop so other staff and attendees can see it has been checked. We may revoke the allowance of carrying a prop inside an Armageddon Expo event at any time in our sole discretion if the item is used inappropriately.
Carrying your props at an Armageddon Expo event
Do not swing or brandish your prop weapon in any way that could be considered unsafe or threatening. Do not carry long props over your shoulder so they extend out and potentially harm someone behind you. You may pose with a prop weapon in a brandishing manner as long as no reasonable person would interpret it as anything but a pose for dramatic effect. Event staff or management may stop your posed brandishing in their sole discretion.

To be allowed into an Armageddon Expo event, your prop must meet the following criteria:
Prop weapons are inoperable weapons that support the overall look of your costume or character.
Your prop weapon cannot be more than 2 meters long or weigh more than 5 kilograms.
Your prop weapon should be made of a convention appropriate material such as foam, plastic, rubber, lightweight wood or fabric.
Metal armor is allowed when fixed to a costume as long as there are no exposed sharp edges, for example, chainmail, bolts and hinges, small screws and nails, jewelry, goblets, cups
Loose metal chain accessories must be less than 30 centimeters long
All prop bows must be unstrung or have a low-tensile thread and prop arrows must have non-metal, blunted tips
Lightsabers
Lightsabers with a metal hilt are permitted at Armageddon as long as the total weight of the full item is less than 1kg
2019 Amendments
In light of the terrorist attack that occured Christchurch March 2019 we have made the following permanent amendments to our cosplay, props and weapons policy.
For all events moving forward real life and imitation military clothing of any kind will not be permitted under any circumstances. One general camouflage patterned clothing item is permitted such as trousers or a top by itself however, a full camouflage outfit or imitation military uniforms is not. This extends to SWAT style uniforms. Pre-1900's military uniform is permitted.

Furthermore, all imitation firearms whether they are handmade, a toy or not will not be permitted. Items that have the appearance of a working firearm, even where they do not function as one, are classified as imitation firearms. As imitation firearms can cause public alarm, these will not be permitted at our event. Weapons from sci-fi and fantasy shows and brightly coloured toy weapons that clearly do not resemble working firearms will be permitted. Toy firearms are generally made in multiple colors and usually with brightly colored tips on the end of the barrels to clearly identify them as such e.g. nerf guns. Nerf guns and water bullet toy guns are permitted into the event, as long as they have zero ammo loaded, and the person bringing them in has no ammo to load them once inside the event. Actual or decommissioned firearms are not under any circumstances to be brought to the event by event attendees e.g. Airsoft guns, BB guns, Paintball guns, sports weapons etc.
These changes are important to maintain the safety of both event attendees and the general public outside the show and to ensure police are not called as a result of public alarm. Please see the images below as further clarification.
Metal Blades/Blunt Weapons
Metal weapon props are strictly prohibited on site. This includes and is not limited to the following: knives, swords, daggers, switchblades, axes, hatchets, metal poles, ninja stars. These items can cause severe damage to persons or property.
Items that have metal parts may be carried if in costume, however, be mindful of other attending when carried them around the event. Any metal that is protruding from the prop will need to be covered, so as not to catch on other attendees.
Blunt weapons e.g. Baseball bats, poles, staffs, clubs, shields etc.
Blunt weapons made from metal and aluminum are prohibited as they can cause bodily harm. However blunt props that weigh less than 5kg's would be allowed if made from non-metal materials such as balsa, polystyrene, pine, mdf, or dowel.
Household items and tools e.g. Power tools, kitchen utensils etc.
Some items may be carried if in costume, however, be mindful of others attending when carried them around the event. Power tools i.e. chainsaws, axes, drills are not allowed at the event. Please use a safe material alternative if relevant to your cosplay.
For queries about items not included in this list or Weapons Policy please feel free to contact us through our Facebook page or at [email protected] 
If you buy weapons at an Armageddon Expo event
All exhibitors adhere to a strict R16 Weapons Customer Policy and will also provide an information leaflet summarising the Weapon Policy with all purchases. If you buy a prop or other weapon from an exhibitor at an Armageddon Expo event, you must keep it sealed in the secure packaging for the duration of the event. Prop weapons purchased at the event that do not meet the Weapons Policy may not be openly carried at the event.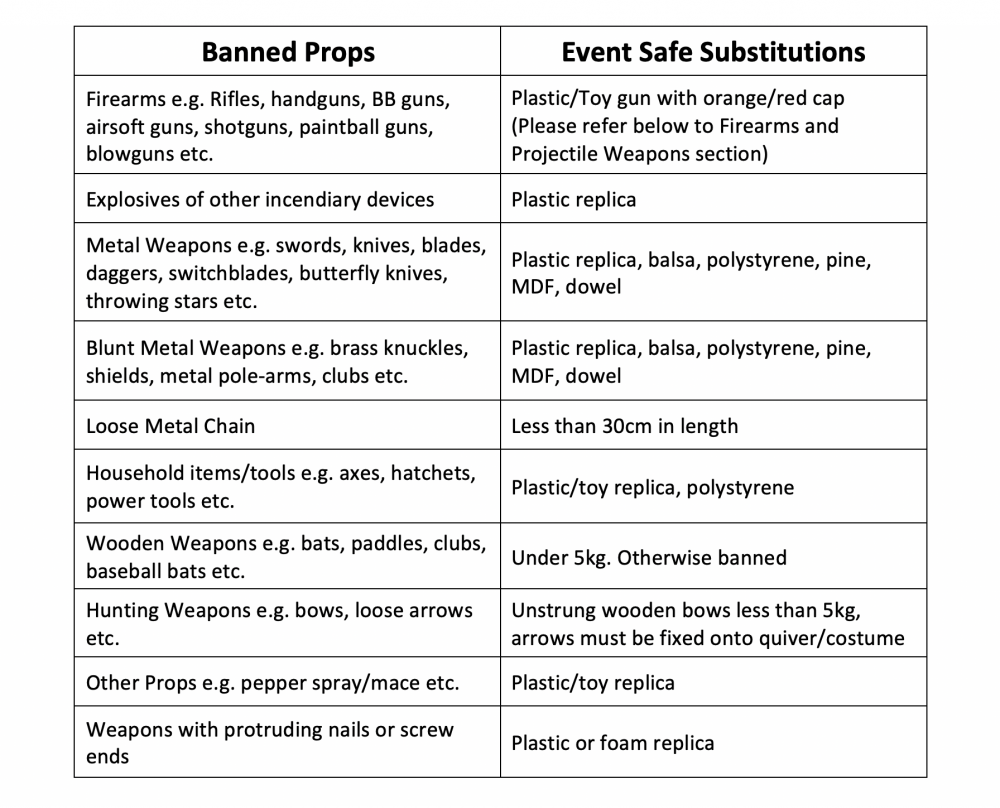 Please note: the event safe substitutions must meet all the requirements outlined in the Weapons Policy
Explicit Clothing Items and Merchandise (Ahegao Clothing/Merchandise)
Clothing items and merchandise with sexually explicit or implied images/patterns, such as ahegao clothing, are banned from being able to be worn under any circumstances. If you are wearing such an item as a general attendee, you will not be permitted into the venue until you have changed clothing, and if you are wearing such an item as an exhibitor, you will be required to change your clothing, or you will be removed from the venue until you are able to come back wearing something appropriate. Armageddon holds full rights to refuse entry to anyone at the event they deem to be wearing unsuitable clothing. 
For queries about items not included in this list or about the Cosplay Props/Weapons Policy in general, please feel free to contact us through our Facebook page or at [email protected]